Alexander Street Press – Music and Dance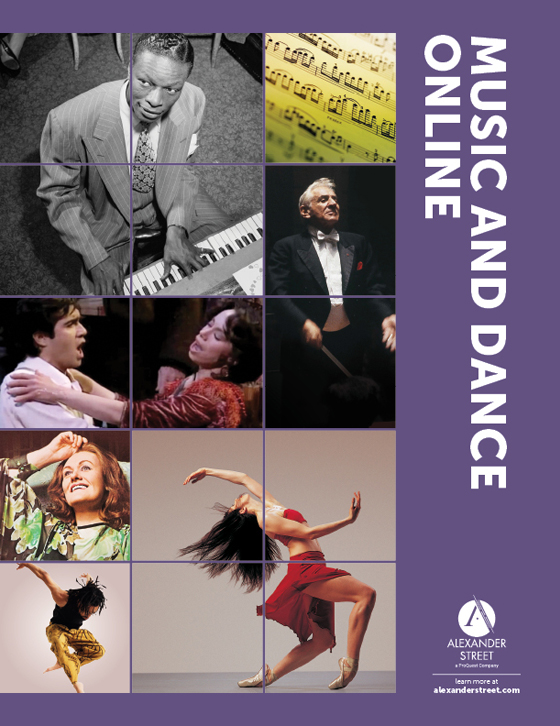 We are very pleased to announce that we have access to Alexander Street Press – Music and Dance.
This database delivers the largest, most diverse catalog of music content in the world for students, scholars, and patrons of the arts. The multimedia resource features works from thousands of respected partners, covers hundreds of genres from alternative rock to zydeco and from alternative dance to operatic arias, and encompasses a wide range of content formats—including scores, reference, and high definition audio and video.
Music and Dance Online currently includes over 11 million audio tracks, 2,500 hours of video, 1.3 million pages of scores, and 500,000+ pages of reference, archival primary sources, and periodicals, comprising the largest and most comprehensive online offering of in-copyright audio and video performances and scores available anywhere.
The collection contains the following thematic packages:
Dance Online: Dance in Video
Dance Online: Dance Studies Collection
Music and Dance Online
Music Online: African American Music Reference
Music Online: American Music
Music Online: Classical Music Library
Music Online: Classical Music Reference Library
Music Online: Classical Performance in Video
Music Online: Classical Scores Library
Music Online: Contemporary World Music
Music Online: Jazz Music Library
Music Online: Listening
Music Online: Music Periodicals of the 19th Century
Music Online: Popular Music Library
Music Online: Reference
Music Online: Smithsonian Global Sound for Libraries
Music Online: The Garland Encyclopedia of World Music
The database can be used through academic IP addresses and from home with the help of the proxy server.
If you have any questions, please send a message to e-help.