ClincalKey online trainings in November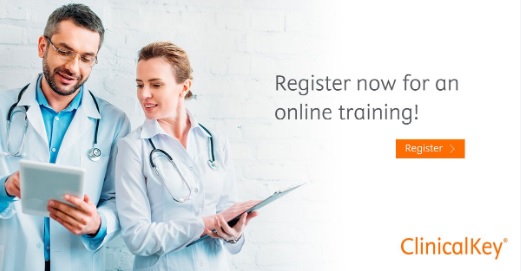 We would like to invite you to online training on ClinicalKey.
ClinicalKey is an online discoverability platform for healthcare professionals, to support improved patient outcomes. It contains a wide selection of Elsevier medical and surgical books and journals in full text as well as guidelines, videos, images, etc. in more than 30 medical specialties.
The webinars will show you how to search for medical information as well as how to use all the advanced functionality tools available in ClinicalKey.
Register now for online training to learn more about our clinical search engine.
Thursday, November 3, 2022, 5:00 pm
https://elsevier.zoom.us/webinar/register/WN_JT_Lfk9FQHWV3eiFW1johg
Tuesday, November 10, 2022, 3:00 pm
https://elsevier.zoom.us/webinar/register/WN_V6KZa-EZRXy83fb9NGe50A
We recommend that you take a look at the publisher's user package, which contains a range of training materials for users in the form of short tutorial videos and user guides.
Date: October 18, 2022