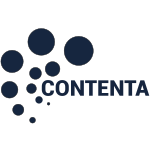 The repositories of the University Library are for storing and indexing full-text documents (even as pictures, motion pictures and audio files) created during educational and research works, and the digital outputs of the library's digitization program.
Contenta is a bunch of different scoped intstitutional repositories. Contenta is a key implement of carrying through the library's content related tasks described in the law: it makes the central or individual uploading, (professional) indexing, providing and safe, long-term archiving of several different objects possible, including research and educational publications, documents, pre- and postprints, dissertations, theses/degree works, etc.
The Contenta serves as an important platform for achieving the University Library's official role as a content holder for the output of the academic materials of the University of Szeged.
Please support our work by uploading your publications, using the repositories and giving us your feedback. If you need any technical or content related help, you can contact us via this e-mail: contenta@bibl.u-szeged.hu
The common search engine for the repositories is available on the Contentas page and in the search bar below.
Other repositories